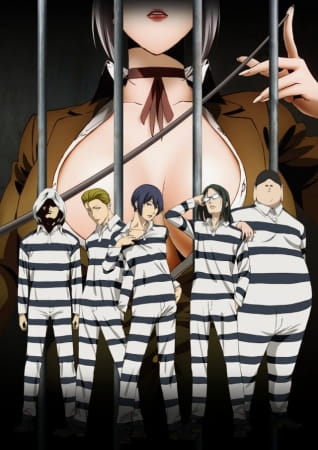 [/align]
If Clara or anyone else who doesn't like sexual content is reading this get the hell out of here you came to the wrong thread. :hehe: [/align]
Lets get the boring stuff out of the way.....Prison school is a 12 episode anime by J.C staff and based off a manga of the same name. It supposedly covers only the first half of the manga but it ends in a great place with plenty of closure so you won't have a feeling of an incomplete story. The genre is ecchi, comedy and school life I guess...!?... I don't remember my school being like this.[/align]
[size=small]

"Located on the outskirts of Tokyo, Hachimitsu Private Academy is a prestigious all-girls boarding school, famous for its high-quality education and disciplined students. However, this is all about to change due to the revision of the school's most iconic policy, as boys are now able to enroll as well.




At the start of the first semester under this new decree, a mere five boys have been accepted, effectively splitting the student body into a ratio of two hundred girls to one boy. Kiyoshi, Gakuto, Shingo, Andre, and Jo are quickly cast away without having a chance to make any kind of a first impression. Unable to communicate with their fellow female students, the eager boys set their sights on a far more dangerous task: peeping into the girls' bath!

It's only after their plan is thoroughly decimated by the infamous Underground Student Council that the motley crew find their freedom abruptly taken from them, as they are thrown into the school's prison with the sentence of an entire month as punishment. Thus begins the tale of the boys' harsh lives in Prison School, a righteous struggle that will ultimately test the bonds of friendship and perverted brotherhood."

[/size]
[/align]
From that plot synopsis you might have some kind of idea what kind of show this is. Extreme punishment given out by both attractive, insane and overly sexualized female guards and out main characters being made their bitches by being made to suffer beatings, humiliation and injustice to the maximum.
Truly it takes a special kind of degenerate to write a story like this. Why? Because this takes your worst fetishes and fleshes them out as much as it can while still being considered anime instead of hentai. Stuff like being punished with lashes, being spat on, being peeded on as well as the mellow stuff like  which other ecchi shows do as well is the name of the game. Might also mention the casual full on uncensored nudity above the waist and getting as close to showing a vagina as you can to keep it's status as an anime.
Are you familiar with the term toilet humor? Well Prison school takes that to a whole new extreme. This is without a doubt the most disgusting show I have ever watched. It has full blown shit based humor,gay jokes, and peeping gags and honestly, it works because this show manages to be quite funny and entertaining. It has a good story for the kind of show it is and it had a really satisfactory ending which actually reminded me of death note's ending. The anime is pretty similar to a prison break type of story with a pinch of romance. For having that many genres rolled into one it's impressive that it managed be to coherent at all.
The main characters are decent but the 3 Student council members are actually what made this show enjoyable since they have a lot more character and they're really well done for the kind of show this is. Animation is also really good if you told me this was a madhouse show I'd have believed it.
Do I recommend this show? A big fat MAYBE. It's quite funny if you get used to it but if you're either not a guy or don't have your mind in the gutter you'll absolutely hate it. Watching 1 episode is more than enough to know if you're gonna like it or not. If you find family guy or similar type of humor funny you'll probably like this. It is a legitimate nice break from "normal anime" and judging from the shockingly high score on mal a lot of other people also think so. Or maybe they're all just bigger perverts. I'll just leave it on that note.​