Ok, this is my first review here and my first review in a looooong time of anything XD.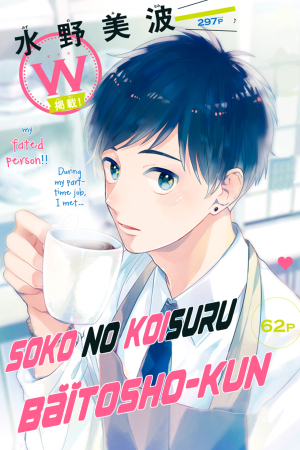 Soko no Koisuru Baitosho-Kun, or During my part time job I found my fated person!. It's a One-Shot created by Minami Mizuno so popular that the author had to make a second episode (hopefuly a whole series). 
The story is about Kazuma Miyoshi who doesn't really have anything to do with his free time, so his uncle puts him to work on his coffee shop as a part time barista. ------ is not that into coffee or even a job, he just wants to see cute girls. Suddenly, while standing in front of the shop's front window, Kazuma sees a beautiful woman, about his age inside, finding what he thinks is the love of his life.
This manga (one-shot) is pretty hilarious, has some great dialogue and an amazing art, the characters are really likable even for a 2 chapter "series".
Finding love a first sight can be see as ridicule for some, but sticking to his believes Kazuma can be a very enjoyable thing.
The only bad thing this manga has this far is that is only a one-shot, i really want to see how this story develops and learn more about the characters life.
Score: 8/10